Everyone wants to look good for Christmas especially for the parties; So ladies I have selected some of the styles that I am loving right now. Perfect styles for the winter season but mainly focusing on the styles for the festive period.
I am curvaceous so I know how much of a struggle it is to find the right outfits to suit our body shapes and we specifically have to make sure that we compliment the outfits. This is why I like the metallic and sequins because it actually takes the focus away from the parts that we may not like.
Jazmine Sullivan sealed the perfect outfit for me personally. Metallic is not everyone's cup of tea however I REALLY like how Jazmine has coordinated the jacket and trousers and it's not too much. Ladies she is serving hot sauce, I absolutely LOVE IT.
https://www.facebook.com/jazminesullivan/?fref=ts
Metallic Gold or Metalic silver?
http://www.simplybe.co.uk/shop/metallic-boxy-top/jp335/product/details/show.action?pdBoUid=4402#colour:Gold,size:
http://www.simplybe.co.uk/shop/mini-metallic-satchel-bag/rt919/product/details/show.action?pdBoUid=4402#colour:Rose%20Gold,size:ONE%20SIZE
These shoes are just fabulous. I think metallic rose gold adds that extra hotness to complete the outfits. It doesn't actually matter if you go for sequins or metallic the shoes will go with more or less anything.
https://www.facebook.com/JustFabuk/?fref=ts
SEQUINS
I love sequins as it separates the styles from smart casual to smart and glitzy. If you usually just wear black because you feel most comfortable in black, the why not add sequins to the outfit, not too much just add more details. This is great a way to save money on buying accessories too, because once you have that little detail added to the simple black outfit all you need is your bag and shoes to complete the look.
CREDIT https://www.facebook.com/lovelywholesale/?fref=ts
CREDIT https://monifc.com/what-s-new.html
https://www.facebook.com/lovelywholesale/
LEATHER
You can't wrong with a touch of leather too ladies. Metallic or sequins with a leather bottoms or on its own are just perfect to wear.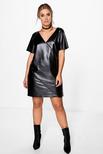 http://www.boohoo.com/plus-size+curve-dresses/plus-khloe-faux-leather-v-neck-shift-dress/invt/pzz91613
Whatever you wear ladies I hope you enjoy and feel confident.  The selection above is just a few items that I have seen that I absolutely love. Let me know what you think.
Words By Vanessa Ryan