Hi Readers
So for the past 2 weeks I have been juggling some ideas and themes to feature on the blog. This blog post was going to be featured in March as next month is officially ladies month, with Mothers Day and Internataional Womens Day are just around the corner. I do sincerely apologise for the delayed blog posts.
Anyway lets start early and talk about the ladies that are making some noise with their music at the mintue. Have you seen and heard the upcoming female artists that are making some serious tunes, not just from the UK but also overseas? If you don't know you will now.
FLAVIA
Flavia began her music path back in September 2009 having a close network of friends in the music industry also encouraged her to take this further by working with one of the UK's best producer Knox Brown where she recorded her first RnB song called 'Radio'. Coming from Ghanaian background, Flavia's style of music is very funky, tribal with a hint of Afro-beats.
Flavia has worked with artist's such as Metamore writing the song "Funky gave me you" produce by Knox. Since 2009 Flavia has gone on to perform in numerous club events around the UK. Her music has been played on radio stations like Kiss, 1xtra, Choice as well as local radio stations.
Other songs Flavia has written includes "Walkaway" originally sang over a funky beat, it was then remixed by bassline producer AdotR. This remix got massive support from 1xtra DJ Q and was also nominated as one of the best bassline tracks produced in 2010. Other producers and funky artist's flavia has worked with includes Tribal Mags, Riskgo and Larizzle where she has featured on songs and performed in Ayia Napa.
Flavia hails from Wolverhampton (UK) and is not shy to showcase her Ghanaian and Italian roots with her music, fashion and beauty.
Here Flavia is back with what she does best with a hint of bassline and techno beat, produced by Alex Rhodes. Check it out
Social Media
TWITTER
http://twitter.com/FlaviaFlavour 
SOUNDCLOUD
FACEBOOK
https://www.facebook.com/Miss-flavia-132890366757884/
Ray Blk is a 21 year old R&B singer / songwriter from South London who cites her inspirations as Lauryn Hill, Amy Winehouse, Biggie Smalls and Lil Kim. She infuses soulful sounds with a hip hop edge and asserts that her primary focus are lyrics while vocals are secondary. Ray hopes to bring something new to the R&B scene that the UK can call their own.
A lot of thought and passion has been put into the 'Havisham' EP. It takes inspiration from Charles Dickens popular novel, "Great Expectations" and is named after the character Miss Havisham. The EP follows this story. A girl, who falls in love, has her heart broken and turns into the cold hearted, wicked Havisham. This story makes the EP one filled with emotion, edge and a mix of sounds from slow neo-soul sounds to grimey up tempo tracks.
Now Ray Blk is definetly one to watch and I really hope she receives the support so we can see her grow more than just a artist. Ray blessed my ears with some serious lyricism that I could personally relate to on the new single "50/50" and I'm sure a lot of females can also open up to as its so real and raw. Miss Blk is being supported by BBC 1xtra, MOBO'S and  music bloggers are very excited for Ray Blk as they have officially marked her as 'HOT 2016'.  I am for sure is looking forward to more from this young lady, she is special.
SOCIAL MEDIA
TWITTER: https://twitter.com/rayblk_
FACEBOOK: https://www.facebook.com/RayBlkMusic
INSTAGRAM: https://www.instagram.com/rayblk
SOUNDCLOUD: https://soundcloud.com/rayblk
RICKY BLAZE X ALEXUS ROSE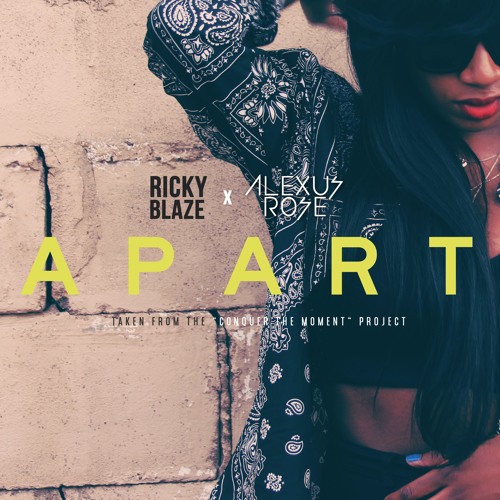 I know technically this is Ricky Blaze track however its Alexus sweet melodies that gives me ear orgasms. I suppose I have to thank BBC 1xtra for this because it's one of their hottest tracks on the playlist at the moment. Although there are various remixes to "Apart" nothing is better than the original.
Who is Alexus Rose?
Brooklyn born songstress Alexus Whitlee Bedeau dreams to take her musical passion and through her lyrics and songs share her story with the world. Inspired by the multi-cultural sounds of her city and distinctive strong vocals set to Ricky Blaze's pulsating drum beats and groovy melodic flow has already made Alexus a household name in the city she represents.
With the help of Billboard producer Ricky Blaze who took her under his wing and began co-writing and producing songs for her, Alexus Rose's creative development has been flourishing and making waves in the industry by delivering hit bound music.ents so proudly.
SOCIAL MEDIA
Download  EP  S.C.A.R.S. on soundcloud.com/alexusrose
TWITTER: twitter.com/alexusrosemusic
INSTAGRAM https://www.instagram.com/alexusrose/
Ricky Blaze
The New Dancehall Fusion Compilation Project From The Multi Talented Brooklyn Producer/Artist Ricky Blaze.
Available on iTunes: bit.ly/ConquertheMoment
Twitter: @RickyBlaze
Instagram: @RickyBlazeTV
wor